My Single Property Websites Blog
A real estate marketing and single property websites blog covering real estate websites, social media, blogs, blogging and reviews of technology products for Realtors® and brokers.
---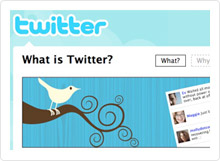 What is it:
Twitter is basically a miniature cellphone-based blog, where you send text messages to your followers answering the question "What are you doing right now?" You also follow others, and you can read their "tweets" (messages they send) from your cellphone or online.
Why do I need it:
If you have a blog, then you already know that blogging helps you reach more people, build relationships with them, and keep your finger on the pulse of your market. Twitter does the same thing, but lets you build even closer relationships with your followers, and if you follow other agents you'll always be instantly up to date on market happenings. And let's face it: real estate agents live on gossip. Think of Twitter as those 15 minutes you spend chatting before your company meeting, but available 24/7 and without the bad coffee.
---