Real Estate Internet Marketing
Your Guide to Real Estate Internet Marketing
---
Real estate internet marketing: the term can mean a wide variety of things, and as real estate moves more and more online, the term has become even broader. Wikipedia discusses real estate internet marketing briefly, touching on just how many different ways there are to reach people via the net. In essence, the goal of real estate internet marketing is to attract online visitors, and convert them into off-line clients and customers. If you fail at any step in the process, for example attracting a visitor to your website but then scaring them off with out of date content, then you've lost the fruits of all your previous effort. That is why it is essential that you create an integrated internet marketing plan. Here are a few tips on getting started.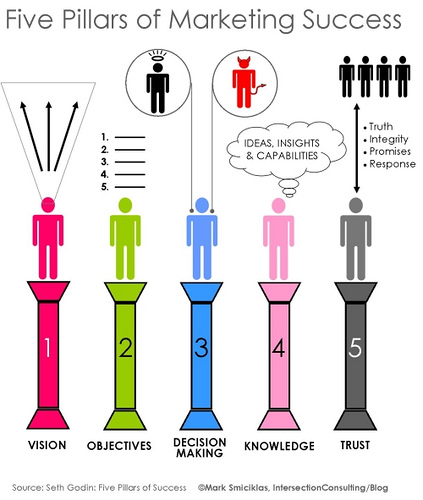 Image Credits: Flickr Photo From Intersection Consulting
1. Decide on Your Marketing Image, both online and offline.
What's your style? Are you going for high end, casual, professional, green? Before you can focus on real estate internet marketing, you need to decide just what image you plan to market. This is key to creating consistent internet marketing . Your marketing image includes things such as:
- Your Headshot
- Your Logo
- Your Font
- Your Color Scheme
- Your "Voice", or the style of your writing
2. Focus And Automate As Much Of Your Internet Marketing As Possible
When you start researching all the different marketing options out there, it can quickly become overwhelming. The good news is, you don't need to do everything by hand. Using a single property website as the hub of your online listing marketing can help you automate your marketing while presenting a consistent image. Many agents with large budgets hire real estate internet marketing companies which usually gets good results, but you can achieve 90% of the same results by using "off the shelf" solutions. You can learn more below:
If you need a logo for your personal or team brand, 99 Designs offers
Real Estate Marketing Logos
, which is a great option for a high quality yet inexpensive logo.
3. Get Yourself Profiled
You'll want to take the time to set yourself up a proper profile at the biggies: Trulia, Zillow, ActiveRain. It only takes a few minutes, and is important in the long run. It's up to you whether you want to spend a lot of time on any of these sites; they can pay off, but it takes serious dedication to cut through the masses and rise to the top. If you're not into writing a lot, it may not be for you. I would suggest your efforts are better spent working on your own blog.
4. Create Your Own Blog/ Website Combo
These days, Wordpress is the most popular option for starting a blog. For around $50, you can buy a great looking real estate template to use on wordpress. Then you can setup a simple real estate website, with your resume, testimonials, contact info etc. If you are up for it, the next best step is to start blogging. This takes dedication, but eventually you can establish yourself as the expert in your area and start being found.
---