Short Sales Training Guide #1
The basics of short sales, and the process for representing a seller in a short sale.
---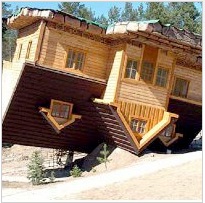 How do you spot a short sale expert? By how badly they reflexively cringe every time you mention the words "short sale".
I've dealt with two in just the past couple of months, and already I've noticed the level of expertise between agents varies pretty widely. The agent who called herself a "short sale expert" took a week just to get the offer to her seller, and was so terrible at communication that my buyer backed out of the deal in disgust after four months of hearing nothing. She started our wonderful relationship by telling me that it would take up to a year, and that I'm not allowed to call her more than once a week. I'm no short sales specialist/ expert/ guru, but I do know how to read, and thought I'd share what I've learned from research and experience:
What is a short sale?
Basically, a short sale is when the seller owes more to the bank than they can sell the property for. What they owe is not just the loan: it's also closings costs, property taxes, *cough* our commission, and any other transaction costs.
Instead of a short sale, should I just price the listing at what they owe and hope it sells?
No. Next question.
Can anyone qualify for a short sale?
If the seller has other assets or a high paying job and can afford to keep making payments, lenders won't just let them walk away. If that's the case, they'll probably have to sign a note to repay the difference between the sale and the amount owed.
Ok, it's a short sale. Now What?
As soon as possible, call the seller's lender and ask for the loss mitigation department. They won't be able to talk specifics about the loan (you'll need a letter from the seller for this, discussed below), but you can verify what documents are required as part of the seller's submission package and where to send them. Generally, you'll need:
-Brief letter from seller giving you permission to discuss their loan
-W-2 forms from employer or letter explaining unemployment
-Bank statements
-Two years of tax returns
-Any other relevant financial documents showing income/ debt
-Hardship letter explaining seller's difficulties
Ideally, you would get the property approved for a short sale as early as possible in the selling process. This will make the property more attractive to buyers (and their shell-shocked agents).
In our next short sale posting, we'll discuss the basics of marketing a short sale property…
3 Innovative ways you can start using video in real estate today, and stand out from your competition.
The top 3 highlights and takeaways from the NAR 2008 Profile of Home Buyers and Sellers.
---
Special Offer: Try Single Property Websites For Free