New Feature: Multiple Photo Uploading
Upload all your photos at the same time!
---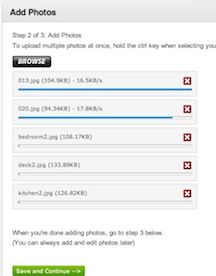 We're excited to announce completion of one of of our most requested features: Multiple photo uploads! Now, instead of having to upload photos individually to your single property websites, you can press the ctrl key (or hold down shift) when browsing your photos to upload all of them at once. You'll be able to view the upload status for all your photos, and the entire upload process should only take a few seconds.
After you've uploaded your photos, click "Edit/ Sort Photos" from your dashboard to sort them by dragging and dropping them in the order you'd like.
Mortgage Calculator Added
We've also added a clean, simple mortgage calculator to the "More" page of your single property websites. In addition there have been a few more subtle upgrades, such as making the "Documents" tab dissappear if you decide not to upload any documents to your single property website. We work hard to accommodate any and all customer requests, so if there's something you'd like to see just let us know and we'll do our best to make it happen!
Cheers,
Michael
Part One in a series of summaries and highlights from the 2009 NAR Member Profile.
Learn the basics about real estate drip marketing, an easy way to stay in front of your colder/ longer term prospects.
3 Innovative ways you can start using video in real estate today, and stand out from your competition.
---