What Do Sellers Want In A Realtor?
Takeaways about what sellers want in a Realtor from the 2008 NAR Seller Profile.
---
There's an old saying in the real estate: You've got to list to last. Most new agents start by working with buyers, usually friends or family. But eventually, all agents have to tackle the most competitive aspect of the real estate industry: winning listing presentations.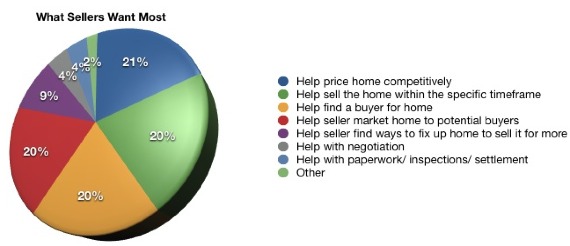 Which leads to the obvious question: what do sellers want in a Realtor? According to the 2008 National Association of Realtors Profile of Home Sellers, the main things sellers want in a Realtor are:
-Help pricing the home competitively
-Help selling the home within a specific timeframe
-Help finding a buyer for the home
-Help marketing the home to potential buyers
To a lesser extent, sellers also want:
-Help finding ways to fix up the home and sell it for more
-Help with negotiation and dealing with buyers
If you're a new agent or an experienced agent who needs a boost, why not spend a day and make one page or slide explaining specifically how you'll tackle each of those tasks. For example, "I will walk you through my 15 point pre-sale home inspection, so we can identify simple and inexpensive ways to fix up your home and sell it for more." Additional features such as single property websites can also help.
Of course sellers don't just choose a marketing plan; they choose a Realtor. So what do Sellers want in their realtor? The 2008 NAR Profile identified the following:
-Reputation of real estate agent
-Agent is honest and trustworthy
-Agent's knowledge of neighborhood
Why not spend a second day, and create a page addressing each of these three topics? For example, you could take photos of the neighborhood and include them in your page highlighting your knowledge of the neighborhood... don't tell them, show them! The photos may take extra work, but you can use that page again and again every time you have a listing presentation in that neighborhood.
Test drive My Single Property Websites with a free preview version, perfect for your next listing presentation!
The top 3 highlights from the NAR 2008 Profile of Home Buyers and Sellers.
Drip email marketing can be a huge time saver, especially for incubating internet leads. Learn about it here.
Some tips and tricks to help you make the most of your property site.
---