Anatomy of a Virtual Real Estate Brokerage: Part 2
Use open source and the "cloud" to run your virtual brokerage effectively and inexpensively.
---
Part 2:
Your Company Intranet
Since you're a virtual brokerage, you'll need to deal with the issue of storing files and documents. You don't really want agents and clients shuffling through your house, searching your basement for some 2 year old file. you're obviously going to need to keep manuals, files, etc., stored online in some central location, plus a way to easily broadcast messages to your agents. Enter Backpack, from 37 Signals. Backpack is one of the most popular web applications in the world, and for good reason. It keeps your documents, discussions and schedules in one place, and it's so easy to use it's almost fun.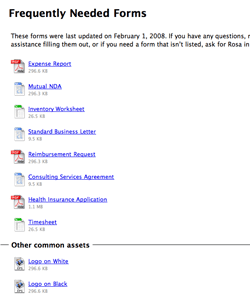 You can have up to 15 users for for $49 per month, or up to 40 users for $99 per month. It's a great place to post training documents, and manuals for both your agents and your admin staff. You can give different people access to different pages, for example only allowing your admin access to your more private company documents.
Email Newsletter/ Drip Email Campaigns
There are two solid options, depending on what you're looking for in an email newsletter provider. If you're just looking to send weekly/ monthly newsletters, MailChimp is easy to use, powerful, and fairly priced. The best thing about Mailchimp is that they not only give you powerful features (A/B Split Testing, Google Anayltics, etc), they make those features easy enough that you'll actually use them. I actually stumbled across their A/B testing in the middle of sending my first email, and I wouldn't have done it on my own if they didn't make it so easy. Pricing for Mailchimp is $10 a month for up to 500 subscribers, and $30 for up to 2,500 subscribers.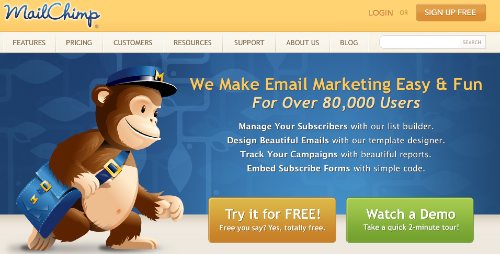 If you're looking to send out drip email campaigns to leads who have signed up from your website, I'd recommend Aweber. They offer more features in terms of creating a sign up form that you can embed on your website, and the killer feature they offer is the ability to set up drip email campaigns. Drip email campaigns are a great way to generate leads, for example by offering a "new buyer's course", etc. This combined with a great MLS/ IDX solution (discussed below), form the crux of your online lead generation strategies. Pricing is similar to Mailchimp.
Your Company CRM (Customer Relationship Management)
The problem with CRM software is that it feels like a job in itself just to learn. It's usually expensive, it's hard to sync, and it's nearly impossible to get your agents to use. The best solution I've found so far is an online CRM called Highrise, from 37 Signals, the same company that makes Backpack. It's not too little, and not too much, and perfect for managing real estate leads.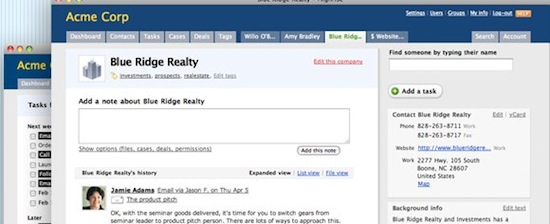 If you sign up for a company account ($49 per month for 15 users, $99 for 40 users), you can use it to assign leads you get from your website to your agents. A killer features is that when you get a new email from a new lead/ contact, you can just forward the email to your special Highrise email address and a contact is automatically created.
Plus, as a nice bonus, If you use both Highrise and Mailchimp they can be integrated together, so you can fill your newsletter address book with Mailchimp and vice versa.
MLS/ IDX Search
This is the biggie when it comes to your real estate virtual brokerage. The vast majority of visitors to your website are looking for one thing: real estate listings. Linking them directly to your public MLS may be easy, but throwing valuable leads down the toilet like that doesn't make much business sense.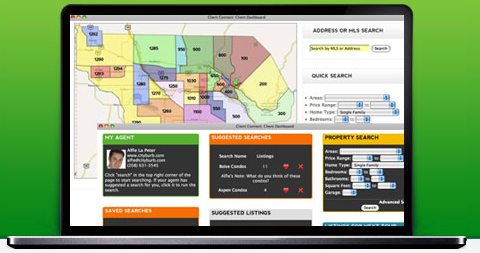 On the other hand, you may not be willing or able to spend thousands on a custom solution. The biggest benefit to a custom solution, is that you'll then get all the "Google Juice" from the data because every listing has it's own unique page on your website (ex. www.AwesomeRealty.com/435-Main-Street-Austin-Texas). While this is of course great to have, is it really worth thousands of dollars? The big real estate sites such as Trulia, Zillow, etc, are already dominating here, so you probably won't even come up in the first page of search results. Plus, how many people are really searching for a specific listing? Why not spend those thousands of dollars generating long-tail content for specific neighborhoods, subdivisions, and topics (tax credit, local regulations, etc)?
This is where I'm a strong believer that it's worth it to focus on the 80% of value: giving users the ability to search properties and converting those users to leads when they register.
There is a wide variety of IDX solutions, of varying quality. I am currently working with my brother, Alfie LaPeter, to develop a unique solution that handles everything from lead generation up to signing the purchase contract. It's called Client Connect, and you can read more about it at www.clientconnect.me (sorry for the shameless plug).
The reason we decided to create our own solution is because we found that generating leads is only half the battle. If they're now well qualified, they can be a major time sink unless you have a way to automate part of the process. Client Connect offers a public MLS search to generate leads, but it's main focus is on converting those leads to clients, and closing those clients. You can view all your buyer's activity: how often they've logged in, what searches they are creating, and what listings they are looking at. You can suggest listings and searches to them, which is great for building relationships. And, we're currently integrating with Facebook and Twiitter to help you get more referrals out of your active buyers, which is one of the best times to get referrals.
Anyway, enough plugging our little baby: there are several high quality IDX solutions, ranging from $30-$100 per month and usually with a setup fee of $150-$300. They almost all serve the listings from their domain, and allow you to link to their website or frame the search into your website. You lose the Google juice, but you save a lot of money on hosting/ bandwith/ etc, and you get 80% of the value for a fraction of the cost of a custom setup.
---
Single Property Websites are a central hub for all your listing's info. Try a preview free to present at your next listing presentation, and impress your seller!
Posting your listings to Facebook is easier than you think!
Review of the top 3 real estate email newsletter providers.
An overview of 360 degree virtual tours along with their pros and cons.
---